Invisalign® Info

Everyone wants a healthy smile. However, not everyone wants braces. This can be a problem because straight teeth are part of dental health. Of course, if you are a candidate for Invisalign treatment, it is no issue at all.
What Is Invisalign?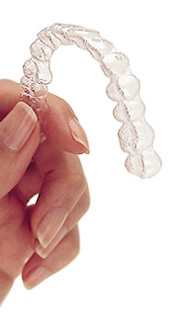 Invisalign is a system that works like braces, but isn't braces. Instead, it uses clear plastic aligners that look similar to teeth whitening trays. These aligners perfectly fit the teeth because they are made just for you using 3D imaging technology.
Testimonial about Invisalign
How Invisalign Works
Invisalign works like braces do—by placing pressure on the teeth in order to move them into the desired position. However, this has nothing to do with wires and brackets. Instead, it is the shape of the aligners that create the pressure, moving the teeth little by little. Each new aligner in the series changes this pressure to further move the teeth, resulting in a healthy and beautiful smile.
Why Should Patients Choose Invisalign?
There are a lot of benefits to Invisalign. The primary benefit for patients is that the system is invisible, so they can correct their smile without anyone knowing it. As such, it is ideal for professionals and adults and teens who just don't like the look of braces.
Other benefits include no dietary restrictions. You remove the aligners to eat and drink, so no worries there. The same goes for brushing and flossing. And since you make adjustments yourself by swapping out aligners, you see us every 6-10 weeks rather than every 4. It all adds up to an pretty amazing system.
Invisalign works for most mild to moderate orthodontic problems. To find out if it is right for you, schedule an appointment.
I just completed my last set of Invisalign clear braces, and am thrilled with the work Dr. Hughes and his staff have done. Any concern I had along the way was addressed as soon as I brought it up. From the assistants to the administration staff, everyone has been cheerful and accommodating. I am so happy that I found this orthodontia office!
– P. George